Encroachment of natural canals and clogging of stormwater drains result in waterlogging of the capital of Bangladesh, severely disrupting normal life. Better coordination between various government agencies responsible for the water and sewerage systems is necessary to mitigate the problem writes Sadia Rahman.
Waterlogging has become a common problem in Dhaka during monsoon. Rainwater drains through natural canals and large concrete stormwater pipes to flood plains and rivers. But as most of the canals have been encroached upon or are clogged with solid wastes, the city streets get flooded even after a small rain.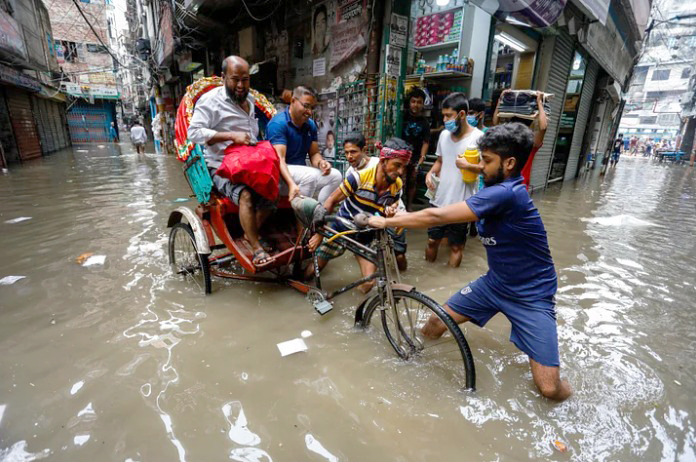 This waterlogging creates social, physical, economic and environmental impacts, besides becoming a burden for the city dwellers. Disruption of traffic movement and normal life, damage of infrastructure, destruction of vegetation and aquatic habitats, loss of income potentials are the effects of waterlogging.
Men and women cannot reach their respective destinations in time because of the waterlogging and traffic jam. "With rainwater stagnating on the damaged roads, we face so many difficulties to go for work. We do not get transportation and we end up reaching the office late," said Tammi Mostofa, a resident of Dhaka.
School going kids suffer a lot. Children and women are the worst sufferers who cannot cross waterlogged areas easily. The stormwater becomes polluted as it mixes with solid waste, clinical waste, silt, contaminants and domestic waste that increase the risk of waterborne diseases.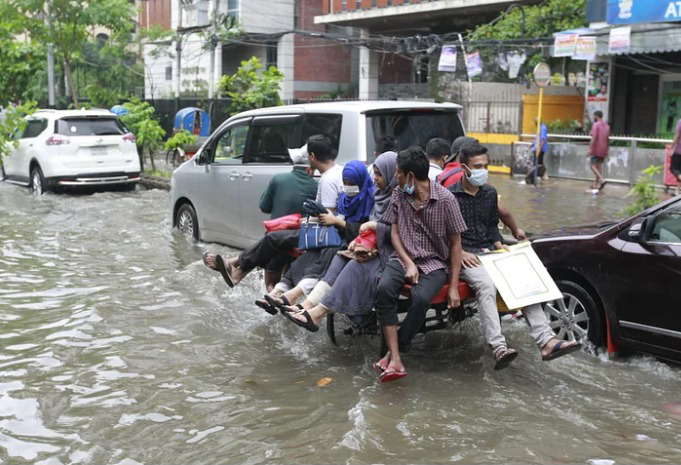 The sewerage system, water pumps, canals and rivers are maintained by seven government bodies. Experts said there is a serious lapse of coordination among the organisations. As a result, the city's drainage system is not properly maintained. Waterlogging will never be solved unless the government agencies coordinate their efforts and work in tandem.
The authorities keep developing and repairing the drainage system all over the city. Their work never ends, as there is no coordination among the departments. What is surprising is that various utility service providing authorities do the digging and re-digging of city roads without rhyme or reason during monsoon, bringing additional sufferings for the people.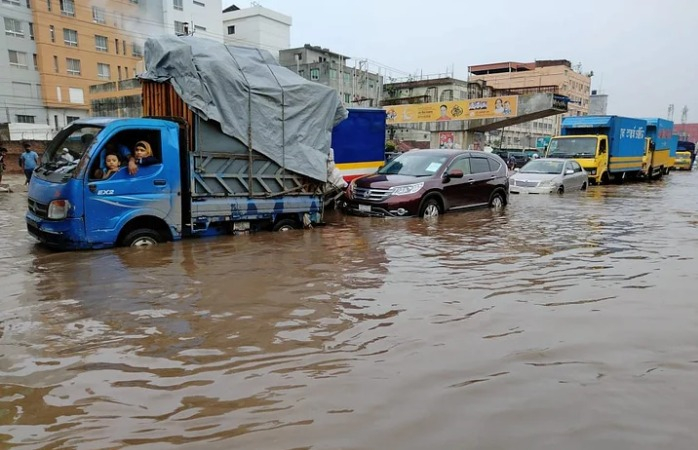 The government should remove encroachments from the natural canals immediately. The choked manmade drains should be cleared to enable free flow of rainwater. More box culverts should be constructed in the city and the existing choked ones should be cleaned. More pump houses should be set up to pump out the water and clear the stagnated water.
The Dhaka city corporations and Dhaka Water Supply and Sewerage Authority have to do their development works in coordination with each other. But what is most important is the implementation of the Dhaka's Detailed Area Plan (DAP) for a permanent solution to this problem.
People were hopeful after two city mayors took over. However, Sheikh Fazle Noor Taposh, mayor of Dhaka South City Corporation said, "Dhaka residents will have to wait at least another two years to be free of the waterlogging problem." It is the responsibility of the mayors to address the problems of the city dwellers pragmatically. Mere utterance of rhetoric will not do, those should be translated into action for the welfare of the taxpayers.
Storyteller
Author's views are his own and do not reflect that of our organisation.
This story is part of our series Water stories from Bangladesh, funded by Internews.
Related stories